Nothing scream "summer" and "berries" more than the beloved sweet plump red Strawberries. The first time I actually picked strawberries was in Munnar, a small paradise in Kerala. I was ecstatic then and wanted to freeze that moment in my memory as vivid as possible. Little did I know that I would get to come to the US and actually pick them from a large Strawberry farm, where even now I would go crazy for these lil berries! Anyways, the strawberries I used for these muffins were not hand-picked but rather bought from the grocery store, but still I couldnt contain myself about sharing with you my excitement about picking my own berries!! We all know the strawberries wont keep fresh for long, so we have to finish it up in any of trillion ways as soon as possible. The best way is to eat it fresh, ofcourse!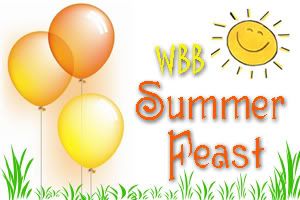 I decided to make some Strawberry Muffins since we have the "WBB: Summer Feast", hosted by Sia of Passionate about Life and Spice, looming in the horizon. What better way to use up strawberries for breakfast, than to make a fresh set of muffins!! I could only tell you what a pretty breakfast it made!! Its quick, pretty and tasty! This recipe is adapted from here. Enjoy!! :-)

Recipe (Makes 8 muffins) :

Canola oil - 1/4 cup
Milk - 1/2 cup
Egg - 1
Salt - 1/2 tsp
Baking powder - 2 tsp
Brown sugar - 1/4 cup
White sugar - 1/4 cup
Vanilla - 1/2 tsp
All-purpose flour - 1 3/4 cup
Chopped strawberries - 1 cup

Method:

Preheat the oven to 375F.

Prepare a muffin tin by oiling it or lining with paper liners (cupcake cups).

In a small bowl combine oil, milk, eggs and vanilla.

Beat lightly and keep aside.

In a larger bowl, combine flour, salt, baking powder, brown and white sugar.

Toss in the chopped strawberries and coat them with flour.

Pour in the beaten wet ingredients.

Fill the muffin cups with the mixture.

Bake for 20-25 minutes or until the top is springy to the touch.

Cool for 10 minutes and remove from pan.

Enjoy warm or at room temperature.
Here's one for you!

Adapted from: a Strawberry Muffin recipe by Katie Mae.

Tips:
The actual recipe called for 1/2 cup white sugar alone.

I would have liked my muffins to be a little bit sweeter. Adjust the amount of sugar to your taste.

Cinnamon lovers can add a bit of ground cinnamon to the muffin batter to make it flavorful.